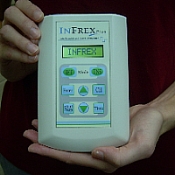 The electrical stimulation device,

Infrex

Plus, possesses specification characteristics that are not found in any conventional therapeutic neuromuscular electrical stimulator (

interferential

,

microcurrent

, galvanic, Russian

stim

,

iontophoretic

like). The

Infrex

Plus is the only unit that comes with a rechargeable battery system capable of 80 minutes of continuous treatment using only the rechargeable batteries as the power source. The patient can treat in situations such as travel on bus, air, car, public areas such as recreation fields, athletic fields, and elsewhere when the use of the supplied AC adaptor is not convenient. The

Infrex

Plus uses the latest technology to make the unit truly portable, however in the clinic, office or home the use of the AC adaptor is recommended.
The

Infrex

Plus uses modified direct current (DC) compounded with a high frequency double exponential

biphasic

waveform. This background wave is harmonious with the body
and significantly reduces skin and fatty tissue impedance allowing much deeper penetration of the direct current without the side effects of skin burning. Because of the balancing of negative and positive electrical energy there is no harm to the patient. The cross currents reduce electrical resistance and accelerates repair by targeting the healing receptor cells.
The unique waveform cross currents, interference, produces minimal inhibitory protective muscle contractions allowing active range of motion during therapy and training. This permits eccentric (lengthening) contractions to occur which are critical to treatment. For the patient the best benefit is the Infrex Plus can be purchased for much less than any other Accelerated Recovery Machine can be rented for 2 -3 months.