The Versa-Pac Uses Urea Rather Than Ammonium Nitrate As The Cooling Agent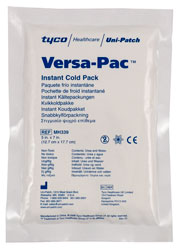 Athletic contests, first aid kits, even for our U.S. Military the benefits of cold therapy intitally offset damage caused by injury.  The Versa-Pac uses environmentally friendly Urea rather than ammonium nitrate, environmentally unfriendly, for instant cold.  One issue with ammonium nitrate is shipping is not allowed due to the danger of products containing ammonium nitrate and therefore it is prohibited.  Urea is safe, effective and can be shipped. 
Benefits:
Non-toxic
Non-caustic
Not considered a hazardous material
Non-combustible
Non-explosive
No shipping restrictions
  Versa-Pac instant cold packs maintain sufficient temperature for cold therapy for up to 20 minutes.  Perfect for the first aid kit or athletic trainers to have for high school, college, professional sports teams for sprains, strains, muscle injuries and other sports or athletic injuries requiring cold therapy.
Available in 5 x 7 inch size or 6 x 9 inch.