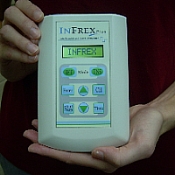 Will Medicare pay for my TENS unit and supplies?
Medicare pays for the rental, purchase and supplies for your TENS unit. Their policy is to pay for a 30 day evaluation period and if during that period the unit is beneficial then Medicare purchases the unit. As long as you are obtaining benefit from the use of the unit Medicare will pay for one of two kits per month for the supplies you need. A prescription is required from your physician.

Does MedFaxx file my insurance for me?
Yes Medfaxx files your primary insurance and after payment by the insurance company will bill you for any amount still owed, if any.

What insurance policies pay for Tens units and supplies?
Basically all insurance companies pay for TENS as long as it is prescribed by a physician. This includes worker's compensation, private insurance such as Blue Cross/Shield, HMO's, PPO's, and in many states Medicaid. Of course with the multitude of insurance policies we can not give you a definite answer until we know your policy and company. By requesting a "Free Trial" we will follow up for you and find out if you have coverage or not.

Is continual use of a TENS unit addictive?
No.
One of the problems encountered in the medical field of pain relief is sometimes a patient is told to only use the TENS unit for one hour then off. That is not correct. The TENS unit is used when you have pain whether it is sitting down, trying to get to sleep at nite, or exercising such as golfing, aerobics etc. If you turn the unit off and your pain returns then turn it back on. The unit can be used 24/7. The longest term study ever done on duration of tens usage was done by Duke Medical Center on 5,000 patients. The results showed that many patients used their units 24 hours daily for weeks then tapered off usage to only when pain became very difficult. Usage 5 years out from the time they received the unit may be only a weekend per month etc.

When should one not use a TENS unit?
If you have had a "demand" type pacemaker implanted, then do not use. Pregnant women should not use or any person who has not been evaluated by a physician to determine if there is an underlying physiologic cause for the pain being experienced.
Will Medicare pay for my Infrex unit?

The Infrex Plus unit is designed for chronic pain and has a tens mode also. It is covered by Medicare as well as most major insurance companies.

Will Medicare pay for topical pain relievers, pain patches, skin creams?

Yes Medicare will pay for those products associated with chronic pain when an Infrex or tens has been purchased by them. The policy is to cover those medical issues ( skin irritation, sleeplessness, topical pain issues that are relieved by products such as Tiger Balm, BioFreeze, Arnica, Flexall 454 etc.) that often evolve from using electrotheapy devices such as a tens or Infrex. The products can be mixed and matched monthly or kit by kit as the patient desires and based upon the needs.

"Electrical Fields" on the body is something I've heard about but the professionals say it doesn't exist. Is that true or not?
There are electrical fields around each person's body and these fields are created by your body. The simple way to prove this is to simply use an "ohm" meter, available from Radio Shack, electrical supply stores, etc, and the electrical resistance on one's body varies constantly. In particular with chronic pain patients there is a detectable, quantifiable change in areas of pain, before and after, using electrical stimulation in the painful area.

Are "trigger" and 'acupuncture" points the same points?
No. Acupuncture points are defined by anatomical location using a standard "CUN" measurement which is specific to the patient's body size. Trigger points are locations which show defining electrical characteristics. It is not unusual though for the terms to be used interchangeably and clincially can produce positive results when used with electrical stimulation.

Can pain relief gels/lotions be used with TENS for prolonged relief ?
Yes. It actually may be beneficial to use them in conjunction with the TENS unit. The TENS unit can increase the blood flow to the painful area and the absorption of the gel may be enhanced by giving better penetration and pain relief from the gel. The "carryover" effect of using TENS is enhanced with the use of topical gels. Carryover is the amount of time one has after using a TENS unit before the pain returns and the patient is uncomfortbable again.

Is the ultraviolet rays from the V-254 the same as those from the sun?
Yes they are, but our atmosphere filters out the range we use, C-range, and does not allow it to reach the earth's surface. The harmful rays from the sun that cause skin damage are the A & B range.

Has any bacteria ever been able to adapt or mutate in any manner whatsoever to develop an immunity to the V-254?
No. Unlike the use of drugs where the bacteria actually can mutate and develop into a far more deadly drug resistant form, no bacterium has ever been able to develop resistance to UV-C rays.

Can electrical stimulation help open wounds heal and bones that will not reattach?
Yes. Most of the studies were done on wounds with a form of stimulation called pulsed galvanic stim. There was one report on the use of TENS for decubitus ulcers. Electrical stimulation can be very helpful for diabetic patients who have open wounds occur on their feet and legs. For bones, the current is generally a micro current or the use of the electrical field created by a circumduction coil.
Sign Up For Our "As The Mood Hits" E-Newsletter

Email:
Does MedFaxx have any Blogs?
Yes for chronic pain and electrotherapy or for V-254 Ultraviolet and Wound Care.
Below from blog postings