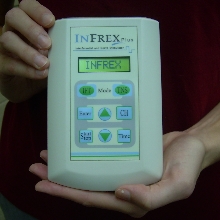 The Infrex Plus because:
Is not palliative relief but gets to core of pain problem,

Penetrates far deeper into the body,

Fires more total nerves deeper in the body,

Can use for 15 - 45 treatments and gain relief daily,

Does not require wearing constantly to block pain messages,

Operates off AC adaptor for unlimited power,

Rate is 8,000+ pulses per second and not 150 - 250 as a tens unit is.
Rather than block pain use the Infrex Plus for carryover pain relief. Treat daily, then weekly then monthly for pain only when about to flare up.