Articles
Details

Hits: 21893

Peripheral Neuropathy Treated With Functional Restoration
Ted is one of our patients who has suffered from peripheral neuropathy in his right calf and foot since 1987. Ted today is 77 years old and in good health but for the lack of sensation, and some pain, from the peripheral neuropathy. Let me tell you a little about Ted and his methods.
Ted was a pharmaceutical sales rep. over 35 years ago and always had a keen interest in the way our body works chemically. His pharma training helped him understand the intricacies of chemical actions in healing and disease. But Ted is a true "doubting Thomas". Over the years Ted has always shown an interest in helping himself by understanding what is going on with his body, and not accepting anyone's advice without seriously questioning the logic, positive and negative outcomes, if he chooses to abide by the recommended treatment of his physicians. The plural is used as Ted does not go see one doctor, but several, when he has an issue. He listens to general practitioners, neurologists, orthopedic surgeons, Chiropractors, physical therapists, etc. and then compiles his own understanding of the health issues and forms his own opinion for his personal treatments.
Details

Hits: 6101
Guide to articles published by Bob Johnson:
Details

Hits: 21625
The use of electrical stimulation, specifically a tens machine, can be used to help with lactation. The constant electrical stimulation is consistent with the descending pathways of function management created by the brain upon having the body organs stimulated.
Tens units operate with a biphasic waveform which means each tens electrode pad is going back and forth between a positive and negative charge. The tens instructions below in the article can be addressed better by watching the Medfaxx tens electrotherapy videos on this site. Our staff can also assist you with any questions you may have.
Details

Hits: 50049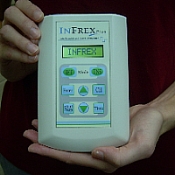 Will Medicare pay for my TENS unit and supplies?
Medicare pays for the rental, purchase and supplies for your TENS unit. Their policy is to pay for a 30 day evaluation period and if during that period the unit is beneficial then Medicare purchases the unit. As long as you are obtaining benefit from the use of the unit Medicare will pay for one of two kits per month for the supplies you need. A prescription is required from your physician.

Does MedFaxx file my insurance for me?
Yes Medfaxx files your primary insurance and after payment by the insurance company will bill you for any amount still owed, if any.

What insurance policies pay for Tens units and supplies?
Basically all insurance companies pay for TENS as long as it is prescribed by a physician. This includes worker's compensation, private insurance such as Blue Cross/Shield, HMO's, PPO's, and in many states Medicaid. Of course with the multitude of insurance policies we can not give you a definite answer until we know your policy and company. By requesting a "Free Trial" we will follow up for you and find out if you have coverage or not.

Is continual use of a TENS unit addictive?
No.
Details

Hits: 14808
Why are tens pain machines generally not as effective as portable interferential pain machines?
Much of the difference boils down to the number of times per second the two different machines go off and on.
Tens machines are small devices that can be worn constantly by a pain patient to control the pain impulses being sent to the brain. The tens device goes off and on, emits small electrical charges, in the range of 1 - 150 times per second. The term for going "off and on" is called "frequency" or "rate" or "PPS". Those terms simply mean how many times per second the small tens units is going off and on. A standard 9 volt battery has enough energy to support that frequency for days before it loses its power. 1 - 150 PPS is not a very large drain on the energy source, the battery.
The individual pulses of electricity are intended to stimulate non pain nerves which then are allowed to be transmitted up the spinal cord to the brain. The theory being by stimulating non pain nerves then one "blocks" the pain message and if blocked then it never gets to the brain and therefore there is no pain. This is referred to as the "Melzack/Wall Gate Control Pain Theory". It is the prevailing theory of how a tens unit works.
The issue for a pain patient is, if the patient is not wearing the tens machine then there is no interference, and therefore, absence interference, one has the pain return or never stop. That is the drawback of tens therapy.
An interferential machine actually has a pulse frequency in the ranges of 8,000 to 10,000 times per second. That means the interferential machine goes off and on that many times per second. That frequency is substantially greater than a tens machine has. With a frequency in the higher 000's range it becomes necessary to have a reliable power source such as plugging in the interferential machine to a wall outlet. A 9 volt battery last approximately 1-3 minutes with such a high frequency.
Considering a typical clinical interferential session lasts approximately 12 - 20 minutes then it becomes unrealistic to do an interferential treatment with a machine that can only use batteries, not an AC adaptor plugged into the wall.
The benefit of interferential therapy is it changes the underlying chemistry of our body by stimulating body tissues deeper in the body itself. These more frequent pulses of electricity overcome the resistance of the skin and allow greater depth of penetration to change the chemistry and to stimulate nerves, including the pain nerves - C fibers. That physical and chemical change allows the brain to learn to chemically alter the pain area and by doing so the changes create "carryover pain relief". Carryover simply means that after the interferential treatment the chemistry has changed and the patient may go for hours, days, or a week or so without needing another interferential treatment.
The theory of how interferential provides carryover relief is called the "DeDomenico Descending Pain Theory", named after Dr. Giovanni DeDomenico. The alteration of transmission of non essential pain messages is controlled by the brain creating chemicals to retard the creation of pain chemically through descending messages from the brain to the area, or, by a descending pathway, thusly the "descending pain control theory". Tens operates on an "ascending", upward limitation of pain messages, and is not permanent, only temporary.
The combination of higher frequency and pulse polarities, alternating positive and negative charges, allow for true elimination of pain. It is the ability to use a portable interferential pain machine that allows one to teach the brain, prior to onset of pain, that the chronic pain message is not to occur.
The new advances in chronic pain control have occurred due to the newer technologies allowing a patient to self treat with a portable interferential machine, Infrex Plus and prevent pain. The theories of pain are not new, only the advancement of the electrical technologies now allow patients to treat and prevent pain.
Details

Hits: 8412
Thank you for requesting your free Infrex trial. Please go to your inbox now and click on the link in the verification message we just sent.

This step is needed to prevent SPAM. Please help us to fight unwanted SPAM on the internet.

Once you click the link, you'll receive the information you need to get started on your way to a better life.
Details

Hits: 5782
In the MedFaxx Functional Restoration (see video below Yoga back pain exercises) program it's necessary to exercise, as well as use interferential therapy, to achieve the best results for chronic back and neck pain.
Here is a video on back pain exercises by

Lillah Schwartz, using very good Yoga exercise techniques one can do in the home to help with chronic back and neck pain.

Read more: Yoga Video By Lillah Schwartz On Back Pain Exercises
Details

Hits: 9148
MedFaxx
Are you currently able to offer TENS units in your office to patients for home use? If not, let us show you how to make these available to your patients for Drugless Pain Relief with your assistance and allow you to offer a new service in your office!!!
We offer 2 programs! "The Purchase Program" and a "Consignment Program"
MedFaxx also has the most extensive patient video education program on the internet. Our "How To Use A Tens Unit" is the most viewed tens video worldwide on how to use a tens unit. This means less questions for you, and better standard controlled education for your patients so they benefit the most. We also offer a free trail period for you and your patient to determine if a tens unit is effective for him/her.
---
Purchase Program

We sell high quality TENS units to the doctor, as well as the Infrex Plus combination Tens/Interferential machine. When the doctor receives their units, we will call their office and train the office in billing procedures from not only the TENS unit but also the fitting fee as well as how to document medical necessity. Our staff has over 80+ years combined experience in medical billing and durable medical equipment. The profits range from $200.00-$600.00 per unit depending on the type of insurance coverage and the amount charged for the unit and the fitting fee.
MedFaxx then provides the necessary supplies (i.e. batteries, pads, and wire) and bills the insurance carrier directly for these supplies. The supplies are only sent for as long as the doctor deems medically necessary. The benefit to the doctor is the patient has a source of continuing needs and there is no outlay of cash for tens accessories or storage.
| | | | |
| --- | --- | --- | --- |
| Per Week | Units Per Month | Units Per Year | |
| 1 Patient | 4 | 52 | $20,800 |
| 2 Patient | 8 | 104 | $41,600 |
| 3 Patient | 12 | 156 | $62,400 |
| 4 Patient | 16 | 208 | $82,000 |
| 5 Patient | 20 | 260 | $104,000 |
---
Consignment Program - MedFaxx originated consignment, along with Ntron, in 1977.

Receive market compensation for storing, maintaining, fitting and training patients who receive a TENS unit!
We Place our TENS units in your office on consignment and pay you monthly market rent for the use of storage space and utilities as well as we refurbish your supplies for patient trials saving you money on tens supplies.
If you prescribe the unit for a patient and they wish to purchase it, simply fax us a copy of the patient's insurance card along with the date of birth.
We will notify you in writing by fax or email as to the patient's insurance eligibility for the unit.
If the insurance and payment terms are acceptable, forward the completed Intake Form and Prescription to us by fax.
You will receive a maintenance fee, as well as, a fee for the fitting and training services performed by you. We will provide you with materials and in-service education to enable you to perform these services.
This does not apply to Medicare and Medicaid patients.
---
Medfaxx offers an unconditional lifetime warranty, even on units not purchased from us, if we are providing supplies for the patient. What this means is that, if for any reason, the patient's unit breaks, we will replace it. No questions asked! Other equipment providers only offer a 30, 60, or 90 day warranty, and then only if the unit malfunctions. We cover malfunctions unless it is caused by the user, such as dropping a unit or running over it with a vehicle.
Custom Search
Save
Save
Save
Custom Search
Save
Save
Save